On the occasion of Hiroshi Sugimoto's winter exhibition, the artist's sixteenth with the gallery, Fraenkel Gallery is showcasing Brush Impression, one of two new bodies of work currently on view. After a three-year absence due to the global pandemic, Sugimoto returned to his New York darkroom to create these works.
Drawn by the allure of the traditional silver-based materials and his interest in the science of photography, Sugimoto uses a calligraphy brush to paint developer and fixer onto photographic paper, creating one-of-a-kind prints that proudly display the processes of his craft.
Each work features kanji symbols, the form of Japanese language based on Chinese pictograms, or hiragana, the phonetic characters used in Japanese. Writing about the series, Sugimoto notes that the characters he paints are essentially invisible to him while he works, and describes his process: "In the dim room suffused with pale orange light, I spread out a sheet of photographic paper then dipped my brush into developer. In the darkness, I gropingly drew the characters which I could not actually see."
While painting, Sugimoto draws on his study of calligraphy and focuses on the characters and their definitions, bringing traces of the meaning of each word to the qualities of his markings.
The series experiments with the basic ingredients of black and white photography: light, silver, and photographic chemistry. Using fixer—the chemical mixture that removes unexposed silver—produces bright white marks where the artist's brush has traveled. When the paper has been pre-exposed to varying amounts of light, the technique creates deep warm tones of red and gold.
The heart of the series is a suite of 48 prints which comprise the Iroha, a traditional Japanese poem dating back to the eleventh century. A perfect pangram, the Iroha contains every kana (a syllabic unit of Japanese language) exactly once. The poem has many resonances in modern Japanese culture, from numbering laws and regulations and naming the musical notes of an octave.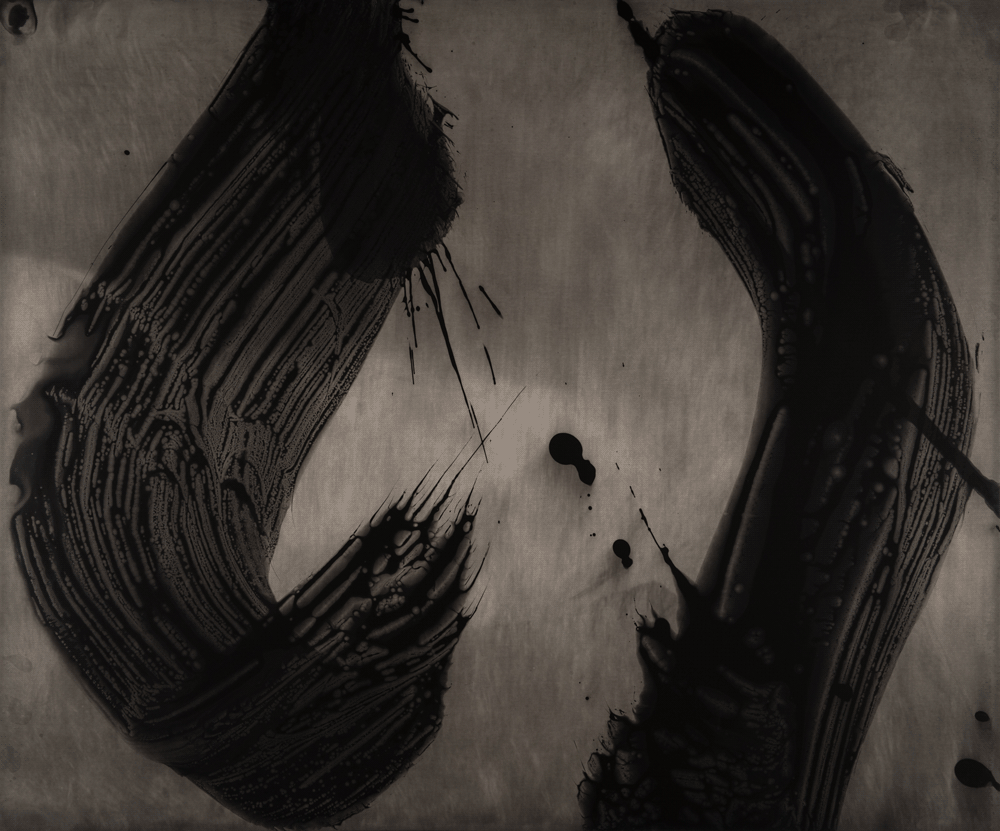 For the works in the Iroha set, Sugimoto paints using developer, the chemical mixture that converts silver in the paper into dark silver metal. Afterward he briefly exposes the paper to light. As he writes, "for a fleeting moment, I expose the paper to a burst of light like a flash. Just the areas which are touched by the brush metamorphose into Japanese characters and float to the surface in black."